Ginger Lime**SPECIAL ORDER ONLY** SEE DESCRIPTION FOR DETAILS.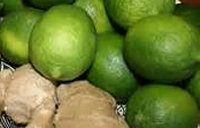 *SPECIAL ORDER ONLY-MINIMUM OF $50.00 MUST BE PURCHASED IN THIS FRAGRANCE FOR ORDER TO BE FULFILLED*
*SHIPPING WILL BE DELAYED BY 1 WEEK.*
The zing of ginger combined with the fresh scent of a juicy lime. If you're a lime lover, you'll go nuts over this one!